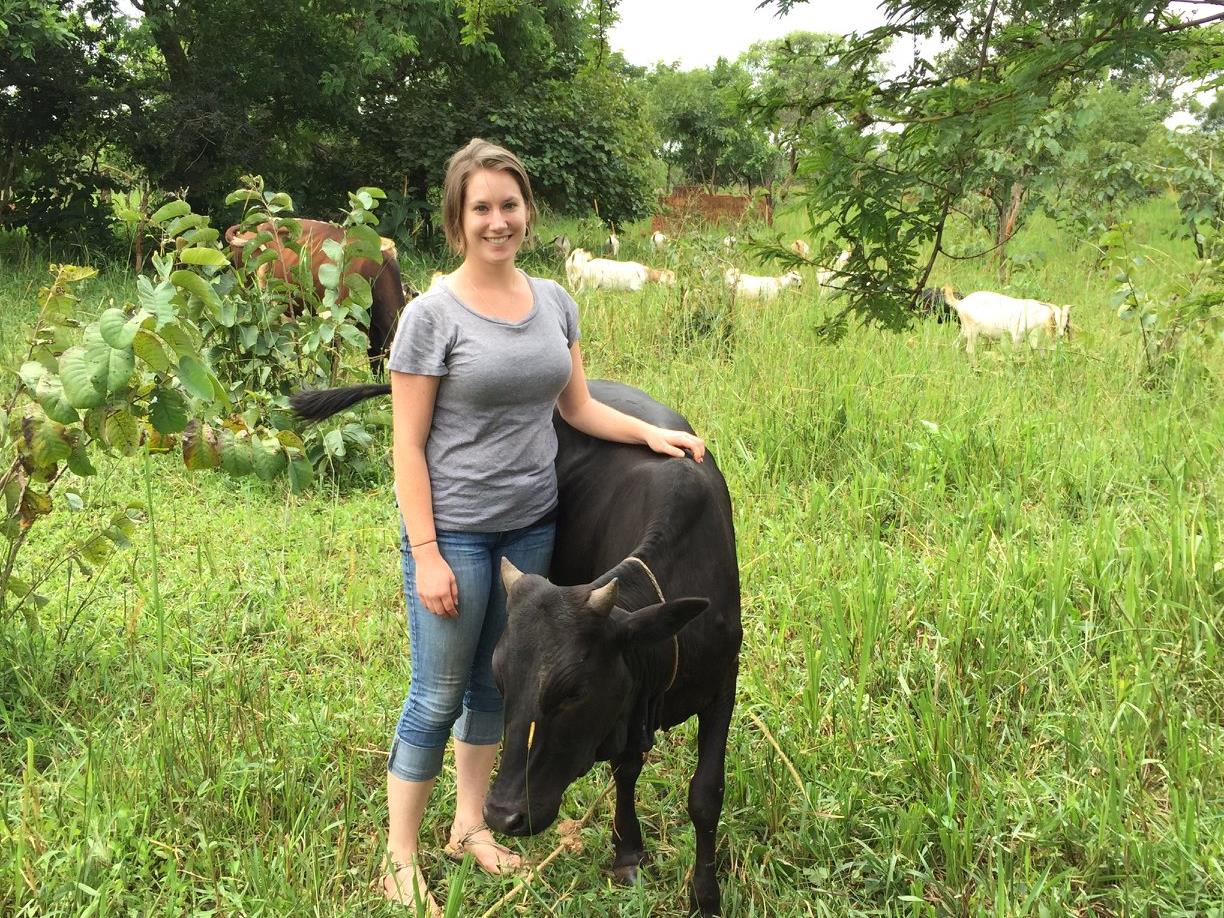 One year ago today I was living and working at Freedom in Creation's Center for Sustainability. I had a room with shutters that I'd throw open in the morning when I heard the farm staff moving together to begin their chores and close tightly when the summer rains began their deluge.
One year ago a baby cow was born on my birthday – it was a full moon that night. It was female and when she is grown she will produce milk in greater quantities than other local cows, because her mother is a European milk breed. But unlike her mother, she will be able to produce milk on little water just like her local-breed paternal relatives. She will birth hardier, more productive calves that will create greater income from the sale of their milk.
In the year that I've been gone, the expected rains did not come again in the way they were supposed to. A carefully designed and cleverly planned rain-water catchment system remained at low levels, and a handpumped-well was the main source of water for the 15 acres of farm.
The calf still grows, though, and she still represents the future.
I was with FIC in Gulu for four months as a graduate intern to learn from their Center for Sustainability about field work in sustainable agriculture development – till then my studies had been confined to a desk in the "Ivory Tower" and it was time to see what the ground felt like under the weight of all that knowledge (hah!).
When I left Uganda a year ago I was both humbled and impassioned by my lack of "real" knowledge, in the same way that you can only find out what you don't know by figuring out first that you don't know it.
A friend called me a few nights ago wanting to ask a few questions about working internationally. I'm by no means an expert in this regard, but maybe I'm the most accessible person for her. Regardless, she asked me to speak about what I learned. A year later, what I learned is a little more clear.
There are a lot of charities in the world. There are many in Africa and there are quite a number in Gulu, Northern Uganda.  Freedom in Creation is no different in intent than these others, but it does stand apart in means and method.
FIC was established in response to the human suffering left behind from the Lord's Resistance Army and the civil war in Uganda. When it was established, FIC sought to address the most immediate impact of these horrific events – the psychological damage to the community, but most specifically to the boys, girls, young men and young women from Northern Uganda who spent years of their childhood as soldiers and sex slaves. Art therapy programs helped those affected express their pain, their fears and their hopes for the future.
But because a life and a community cannot be rebuilt solely through psychosocial therapy, FIC slowly began adopting programs that would address the continually evolving issues facing this group of people. Today, FIC's farm assists a generation that lost an agricultural legacy to regain a foothold in their economic wellbeing, it works with local schools on water wells so students can spend time studying instead of walking to find water and on scholarships for school fee payments so FIC kids can continually attend school.
It's what we referred to in class as a "holistic approach" (relating to or concerned with wholes or with complete systems rather than with the analysis of, treatment of, or dissection into parts. http://www.merriam-webster.com/dictionary/holistic.) The holistic approach seems obvious – say you lost your leg. You would definitely want a prosthetic leg. But you'd also likely want someone to help you regain the strength and stamina to use it. It might also behoove you to go to counseling too – in order to learn what to do when phantom leg creeps into your mind or when you begin to mourn the loss of a part of your body.
But often, international development fails to address more than just one or two parts of poverty alleviation or climate change or disaster relief or hunger – and not the training to learn to walk again as well as phantom leg prevention.
The kids who are sponsored by FIC are assisted with school fees for their education, they come to the farm twice a month for agricultural lessons and their parents are able to receive the livestock bred on the farm to produce better and be worth more. Their teachers and headmasters are involved and the wider world knows who they are through the global village project.
And so FIC is different in its method because of the holistic support to all parts of these kids' lives. When the kids are not at a farming lesson they attend sessions with the art teacher and dance instructor and discuss various themes within human rights law and what it means for them. FIC has been doing this for ten years.
In our classes we discussed what makes for a good project in environmental conservation and international development. What we came back to were projects that not only address an immediate need, but are able to create the space for behavior change or growth – for a sustainable social shift. Unfortunately, we also discussed, that is not the model of project that is funded by large donors who like to see measurable results in a specific amount of time. Change and growth takes time investment – we know that. But often we are unwilling to commit to that investment.
The thing about FIC that I was most impressed with and what I carry with me always in the degree to which they have invested in the community and in themselves. FIC's Farm Manager is studying in Costa Rica at Earth University to build his capacity for tropical argiculture. Interns from Gulu University in the local area come to the Center for Sustainability to practice what they learn, returning to that investment to their own communities. And FIC's kids and their families benefit from that knowledge investment.
I am so lucky to have had the opportunity to learn from FIC staff in Costa Rica and in Uganda. I'm a better humanitarian for it.
And I can't wait to see how big that calf grows.
Ofwoyo ba, FIC!