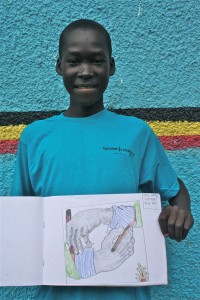 FIC artists are celebrated and affirmed through exhibitions at the FIC Community Art Center. The artwork is then sent to the international community for exhibition. The children are thus able to speak for themselves as free artists, reveal their own plight, and shed light on the global village in a spirit of "commonalities before differences."
Through exhibitions and collaborations with other artists and institutions, FIC educates and raises funds that are invested back into the art program, global village education, and the construction of fresh water wells. In this way, FIC participants are accredited with helping to contribute a vital resource—fresh water— by the work of their hands. An on-site acknowledgement and accreditatIon to the children for bringing a well to the community is erected at the foot of each well.
Art serves as a wonderful bridge for teaching in an interdisciplinary manner and facilitating cross-cultural conversation, dialogue, and creative collaborations. Thus far Freedom in Creation has collaborated with students of seven nations. We have exhibited our children's artwork, "The Story of Freedom" exhibit, in 10 nations.
Above, left, 14-year-old Opiyo Walter, shows off his M.C. Escher-like drawing.
Below, left, young artists enjoy tea after a creative session at the FIC Community Art Center. Below, right, the FIC exhibition, "The Story of Freedom" hangs in the Obra Vista Gallery, Barcelona.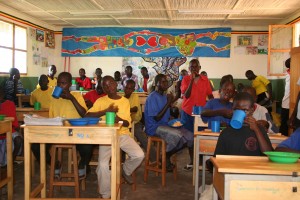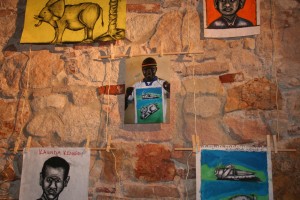 Below, students at Hathaway Brown School of Shaker Heights, Ohio, share a banner left half complete so that the FIC artists can "join hands."