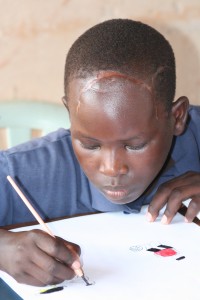 In cases of historic conflict, art-making is especially important. It is therapeutic and affirms individuals in their relative autonomy and supports them in their ability to articulate pain, relationships, and reality. Artistic expression reflects the will to persevere in the face of despair. It allows individuals to face the reality of their trauma and personal tragedy and begin to overcome it.
Additionally, the display of art often engenders community introspection and produces mutual understanding and empathy otherwise difficult to attain through standard discourse. Such understanding is of chief importance in historic conflict zones, especially those involving child soldiers.
The reintegration and socialization of former child soldiers is sometimes more painful due to the post-conflict rejection by their communities. If children are to adequately reintegrate into mainstream society, war-affected communities must identify the importance of empathy and support the processing of traumatic experiences with affected children. Art venues invite communities to ponder life in a safe place while facilitating the restoration of culture and identity.
FIC is devoted to art as therapy and psychosocial care intending to:
1. Foster a healthy peer environment through which ex-combatants and non- combatants can interact under caregiver supervision.
2. Ease the process of socialization of ex-combatants and relieve them of stigmas often furthered by isolating them from peer groups.
3. Provide art as therapy and opportunities for war-affected youth to express themselves through the arts and be counseled by trained Ugandan leaders.
4. Allow caregivers to assess the children's needs and discern how best to encourage individual and communal health.
This model was developed by FIC founder Andrew E. Briggs and community leaders in the Gulu District of Uganda during the years 2006-2009. Building upon the model, former president of the Art Therapy Association, Paula Howie, provided curriculum material to present to Ugandan leaders and trained professionals for evaluation and adjustment based on cultural discrepancies. This will assist the therapeutic side of the FIC program while enabling a foundation for long-term efforts to assist with the development of African/Ugandan methods of art therapy and counseling.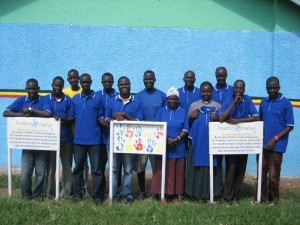 FIC believes in community-led art-based psychosocial care. The term "psychosocial care" refers to a system inherently relying on a community's ability to identify and tend to its wounds. Communal life defines the family social structure in Africa. In Uganda, family counseling may very well include immediate family, extended relatives, and community elders. Empowering a community means empowering leaders to be in a position to make provisions for such healing. In cases of utter devastation where everyone is picking up the pieces, there are often few leaders to shepherd a community. Where they do exist, their voices make the greatest impact in developing the next generation of community leaders.
FIC operations have been led by volunteer community leaders since the program began in January 2007. Within a healthy peer environment and the oversight of caring leaders, participants are able to express themselves freely, be affirmed, and receive counsel and art instruction from trained caregivers and art teachers. The purpose is to encourage the children's psychological health while providing them with an enjoyable opportunity to learn about the arts. During weekly activities, program leaders can assess the health of the children and offer insight to parents and guardians.